Drivers shopping for the latest Ram, Jeep, Chrysler, and Dodge vehicles in or near Ottawa can find plenty of models in stock at Southbank Dodge. Our dealership features a wide selection of Ram, Jeep, Chrysler, and Dodge models for drivers to choose from. Continue reading to explore our impressive lineup of trucks, SUVs, sedans, and more.
Curious about our lineup of SUVs? Click here to browse our selection.
Ram 1500
Truck drivers looking for a powerful, versatile pickup will appreciate the power and configurability of the 2022 Ram 1500. This truck offers the perfect balance of comfort, power, and utility.
Ram 1500 Classic
The Ram 1500 Classic is a reliable mid-size truck that offers exceptional performance and capability. This truck is a great choice for drivers looking for an accessible, dependable pickup.
Ram 2500 & 3500
Drivers looking for a full-size pickup truck built for heavy-duty towing should consider purchasing the Ram 2500 or the Ram 3500. Both models offer powerful engine options and premium technology features.
Jeep Cherokee
The Jeep Cherokee is easy to recommend to drivers looking for a practical yet sporty SUV. This model features off-road capability, smooth ride quality, and a generous assortment of standard interior amenities.
Jeep Grand Cherokee
Drivers in the market for a spacious, three-row SUV with outstanding off-road performance will love the Jeep Grand Cherokee. This SUV is the vehicle of choice for many family-oriented drivers.
Jeep Grand Cherokee L
The Jeep Grand Cherokee L is ideal for drivers who value interior space, featuring an even more spacious cabin than the Grand Cherokee. This SUV can comfortably accommodate seven passengers.
Jeep Wrangler
The Jeep Wrangler is known for its rugged capability and wide range of engine options. This SUV is perfect for drivers who want a vehicle with plenty of customization options and off-road driveability.
Jeep Compass
Crossover SUV shoppers looking for a feature-rich model with a spacious interior will appreciate the Jeep Compass. This SUV comes equipped with many of the latest driver aids and technology systems.
Jeep Gladiator
Based on the beloved Wrangler, the Jeep Gladiator is a rugged pickup with extensive off-road capabilities. This truck is a great choice for drivers looking for an adventure-ready vehicle.
Jeep Wagoneer
The Jeep Wagoneer combines luxurious comfort with powerful acceleration, resulting in an upscale driving experience like no other. Every detail of this three-row SUV was designed with care and elegance.
Jeep Grand Wagoneer
Drivers looking for a premium SUV with an abundance of interior space should consider purchasing the Jeep Grand Wagoneer. This is a high-end luxury vehicle that the whole family can enjoy.
Jeep Renegade
Featuring 4x4 capability and a wide selection of available off-roading features, the Jeep Renegade is a versatile SUV. The Renegade is ideal for drivers who love to go off the beaten path.
Chrysler Grand Caravan
Drivers looking for an affordable minivan with a spacious, comfortable interior will appreciate the Chrysler Grand Caravan. This minivan's practical design and accommodating seats make it a great family vehicle.
Chrysler Pacifica
Minivan shoppers looking for a vehicle that can easily transport both passengers and large cargo loads will enjoy the Chrysler Pacifica. This minivan is known for its spacious interior and upscale ride comfort.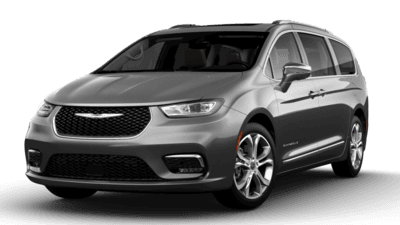 Chrysler Pacifica Hybrid
Family-oriented drivers who want a vehicle that's both efficient and spacious should consider purchasing a Chrysler Pacifica Hybrid. This hybrid minivan sports an impressive selection of interior features and amenities.
Chrysler 300
The Chrysler 300 is an upscale sedan with powerful engine options and a roomy interior. Whether commuting in the city or cruising down the highway, this sedan makes every trip enjoyable.
Dodge Durango
Drivers shopping for an SUV with a bold exterior design and impressive performance specs should consider the Dodge Durango. This SUV is a great choice for drivers who value power and driveability.
Dodge Challenger
Few cars provide high-speed thrills and excitement like the Dodge Challenger. This muscle car is the vehicle of choice for many driving enthusiasts due to its wide range of powerful engine options.
Dodge Charger
The Dodge Charger is a full-size sedan that provides drivers with a wide assortment of engine options and packages to choose from. This sedan is easy to recommend to drivers who value sporty performance.
Have any questions for the Southbank Dodge team? Our Ram, Dodge, Jeep, and Chrysler vehicle experts are always ready to help drivers learn more about the vehicles in our inventory. Fill out the secure online form below to get in contact with our team.